Visit website 2155 Curve Plaza, Steamboat Springs, CO 80487 Open today until 8 p.m.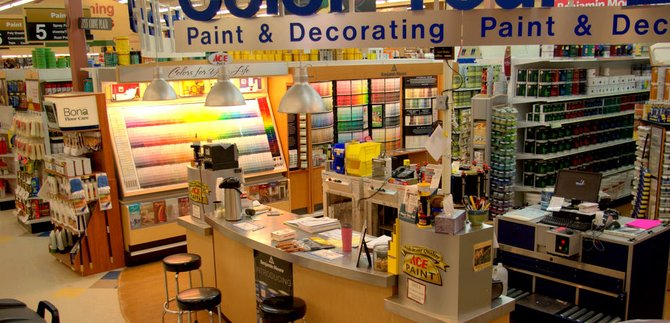 Paint, stain, and supplies: Our stock of paint, varnish, polyurethane, and stain takes up four aisles of the department. Whatever the finish, surface, color, or mode of application, we have the bases covered. We also have brushes, rollers, sandpaper, wire brushes, paint thinner, caulk, masking tape, and every item between.
Sample pints of Benjamin Moore: Before plunging into a full blown project, pick up some samples of Benjamin Moore paint and see if the colors you've decided upon really match the space you're working with.
Specialty cleaners and furniture care: Our cleaning aisle is a department unto itself. From Ms. Meyer's Clean Day to ceramic stove top polish, there is an astronomically slim chance that we won't have a product that'll get it clean. Wondering about keeping those hardwood or laminate floors shiny? Conventional household cleaners can be harmful to wood flooring. We have a full range of floor cleaners, protectants, and polishes. The Bona Floor Care system from Sweden is a hot seller. We also stock cleaning products and sealants for marble, travertine, and slate.
For furniture and other finished wood surfaces, we feature a product specifically tailored to the harsh, dry climate of Colorado. Many furniture cleaners tend to dry out the wood they're applied to -- exactly what is not desired in a low humidity environment. Rocky Mountain Lustre, manufactured in Colorado, cleans while also revitalizing and humidifying the wood. Learn more at their website