Steamboat Springs, CO 80487 Open today until 5 p.m. Open by appointment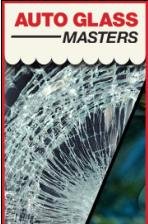 Auto Glass Masters performs both repair and replacement of auto glass.

Call us when you first get a chip in your windshield, and we can fix it before it spreads! Your windshield is actually two pieces of glass bonded together with a plastic interlayer between the glasses. Typically when a rock or other debris hits your windshield, only the outer layer of glass is damaged. If the damage is smaller than the size of a credit card, it can sometimes be repaired. We have the best results with damage that is the size of a quarter or smaller. During the repair process, a vacuum is created, the air is pulled out, and then resin is forced into the break. The goal is to repair the break so that a costly replacement is not necessary. Because we do have to put some pressure on the glass during the repair attempt, there is a slight chance of further breakage. Our repairs are guaranteed. If you are ever not satisfied with the repair results, we will gladly credit the repair charges towards the replacement cost, as long as you return to us for the replacement. We handle all types of glass repairs for farm and heavy equipment. If it's a crane, excavator, backhoe, trackhoe, loader, pan, dozer, bobcat, forklift, or shovel and it has broken glass, we can fix it.
If the damage to your vehicle's glass is beyond repair, Auto Glass Masters handles all sorts of replacement as well.
Call Auto Glass Masters TODAY to set up your appointment!