Visit website 35825 East US Highway 40, Steamboat Springs, CO 80487 Opens Tuesday at 9 a.m.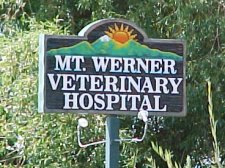 Mt. Werner Veterinary Hospital would like to take this opportunity to welcome you, your family, and your special family member to our website. As you continue to browse and explore our website, it is our hope that you will learn more about our dedication to your family and the quality veterinary medicine and service we provide.
Our goal here at Mt. Werner Veterinary Hospital has always been to assemble a veterinary health care team committed to providing exceptional client service and veterinary health care. The Mt.Werner Veterinary Hospital team displays an unrivaled commitment to our clients through continuing education, technological advances in veterinary medicine and service, and most importantly, administering compassionate care to all pets entrusted to us.
Services we offer which other vets may not include CO2 laser surgery (meaning less pain, swelling, bleeding, and a quicker recovery); laser light therapy (a painless treatment for conditions ranging from hip displasia to hot spots that reduces pain and inflammation), and endoscopy.