Visit website 136 Lincoln Avenue, PO Box 771211, Steamboat Springs, CO 80477 Open today until 9 p.m.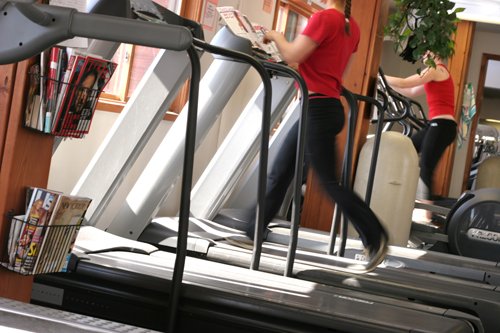 Exercise Classes
Types of Exercise Classes Offered:
Yoga

Spin

Zumba Toning

Step

Strength and Stretch

Black Diamond Fitness

Spin Fit

Core Express

H20 Classes

PBS - Power-Balance-Strength

Pilates

Zumba

TRX

Specialty Classes
Weight Rooms & Cardiovascular Area
The Fitness Center is always open when the facility is open. There are Free Weights, Weight Machines, Elliptical Machines, Treadmills and Bikes available. There are over 30 classes per week including Step, Strengthening, Yoga, Pilates, Spin and Aerobics. See our class schedule for times. There is a daily fee for visitors which can be combined for a few dollars more with a soak in the pools and lap swimming. Click here to view schedule.
Cardiovascular Machines:
Concept II Rowing Machine*

Precor Cycles
Spin Bikes in Fitness Area

Precor Ellipticals

Recumbent Bicycle

Stairmasters

Treadmills
Fitness Programs offered by Personal Trainers
Personal Trainers working at the OTHS have a Personal Training Certification and at least one year's experience in training. Trainers are also capable of providing group "specialty" classes for OTHS clientele. Click here to view schedule.
Fitness Programs:
Weight Room Orientation

Personalized Strength Program (PSP)

PSP (update)

Post Rehab Program

Personal Training

Partner Training

Youth Weight/Cardio Program

Youth Personal Training

Flexibility Training

Body Fat Analysis

Personal Trainers, Exercise Instructors and Aerobic Instructors
Chris Voyvodic:
AFAA Cert. Personal Trainer, Cert. Mat Science Level l & ll, C.H.E.K.
(corrective holistic exercise kinesiology) Functional Trainer. 970-879-1828, ext. 303.

Brent Tollar:
ACE Certified Personal Trainer, Strength and Conditioning Coach, Football & Hockey (College Level) Adaptive Sports Facilitator, Bachelor of Science Sociology 970-879-1828, ext. 307.

Ronni Collins:
ACE Certified Trainer, ACE Group Fitness Certified, Level 1 CrossFit Certification.

Michelle Meyer:
ACE Certified Trainer, Certified Spin Instructor, Lifestyle Coach and registered Yoga Instructor (200 hours)

Exercise instructors are required to have a current exercise certification and First Aid, CPR and AED certification.

Spin:
Patti Lindquist, Bruce Alston, Ronni Collins, Amy Charity, and Michele Meyer.

Yoga:
Jill Barker, Lynda Van Tassle, Cristen Malia, Jenny Gabriel, Lindsey Barr, Danielle Preissing, and Carrie Nelson.

Pilates:
Marietta Roberts and Jean Labaree.

Zumba:
Jodi Glaisher, Melissa Cartan, Giovanna Scerpella, and Deb Curd.

Aqua Fitness:
Carrie Epstein, Sara Gorevan, Elise Kuczera, and Peggy Van Vliet.

Aerobic Instructors:
Ronni Collins, Karen Jimmerson, Jean Labaree, Marietta Roberts, and Michele Meyer.

Aqua Zumba:
Jodi Glaisher and Melissa Cartan



Additional Information



Fees & Appointments:
Contact Marietta Roberts, 970-879-1828, ext. 314 mroberts@sshra.org

Cardiovascular Machines Sign-up:
All Cardiovascular equipment requires signing up for half-hour increments. Advanced sign up (one day prior) is available at the front desk or in the cardiovascular area on clipboards next to the machines on the day of use.
*These machines do not require sign up.

Spin Class Sign-up:
Spin classes require advanced sign up at ext. 0.

Schedule:
Stop by the front desk, call 970-879-1828, ext. 0, or click here for a listing of this month's classes.

Waivers:
Day visitors and individuals starting a fitness program need to sign a waiver before joining the class.



Fitness Center Suggestions


• Sign up for your machine. Sign-up sheets are upstairs. You may reserve a machine the day before by calling the front desk or stopping by the facility. You may reserve a machine on the day you want to use it by stopping by and signing up for that particular piece of cardio equipment. You may sign up in 30-minute increments. If you are five minutes late for the equipment for which you have signed up, you may lose your spot to another user. When you are finished with your workout, please be courteous and prompt in getting off your machine.

• Wipe down the machine and equipment that you are using. Disinfectant spray and towels are available. Hand sanitizer machines are also throughout the building. This is a way we can all avoid germs and getting sick during the winter months.

• The music in the Fitness Center is the Classic Rock station from XM Radio. While everyone has a different taste in music, it has proven to be a neutral fit for all. You are welcome to wear your own headphones or Ipod if you object to the music.

• All members are invited to learn how to use the weight and cardio equipment in the Fitness Center. Sign up at the front desk for a free orientation.

• It is important not to drop the free weights on the floor of the Fitness Center, which is the upper floor of the building. This can cause structural damage to the floor, even though the floor has been reinforced. It also gives a huge jolt to members and employees on the lower level. Please help by also letting any teenage family members know as well.

• Use the fitness machines between 1:30 and 3:30 in the afternoon if you prefer to work out at a quieter time of the day.

• A tremendous variety of fitness classes are available in the Fitness Center, on the upper level of the Old Town Hot Springs. You'll find Spin, Step, Pilates, Yoga, Total Fitness, Turbo Kickbox, and more.