Visit website 136 Lincoln Avenue, PO Box 771211, Steamboat Springs, CO 80477 Open today until 10 p.m.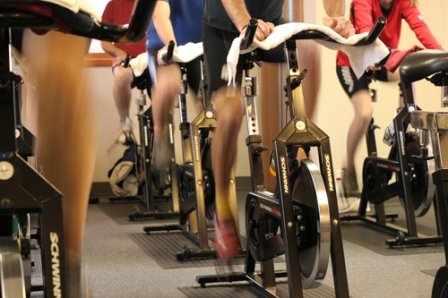 Instructors
Fitness Director:
Marietta Roberts, 970-879-1828, ext.314
mroberts@sshra.org
Chris Voyvodic:
AFAA Cert. Personal Trainer, Cert. Mat Science Level l & ll, C.H.E.K.
(corrective holistic exercise kinesiology) Functional Trainer. 970-879-1828, ext. 303.
Brent Tollar:
ACE Certified Personal Trainer, Strength and Conditioning Coach, Football & Hockey (College Level) Adaptive Sports Facilitator, Bachelor of Science Sociology 970-879-1828, ext. 307.
Ronni Collins
Spin Instructor, ACE Certified Trainer, ACE Group Fitness Certified, Level 1 CrossFit Certification.
Jill Barker
Yoga Instructor
Jenny Gabriel
Yoga Instructor
Jodi Glaisher

Zumba and Aqua Zumba Instructor




Spin:
Bruce Alston, Katie Lindquist, Ronni Collins, Shannon Dillard, Amy Charity, Marci Mattox, and Michele Meyer

Yoga:
Jill Barker, Jenny Gabriel, Alli Pallut, Lynda Van Tassle, and Cristen Malia

Pilates:
Marietta Roberts and Karen Jimmerson

Zumba:
Jodi Glaisher, Giovanna Scerpella, Deb Curd, and Melissa Cartan

Barre Fit:
Jamie Boeri

Aqua Fitness:
Carrie Epstein, Sam Huff, Elise Kuczera, Peggy Van Vliet

Aerobic Instructors:
Ronni Collins, Karen Jimmerson, Jodi Glaisher, and Michele Meyer.

Aqua Zumba:
Jodi Glaisher and Melissa Cartan