Visit website 136 Lincoln Avenue, PO Box 771211, Steamboat Springs, CO 80477 Open today until 10 p.m.
Photos / Best of the Boat: Old Town Hot Springs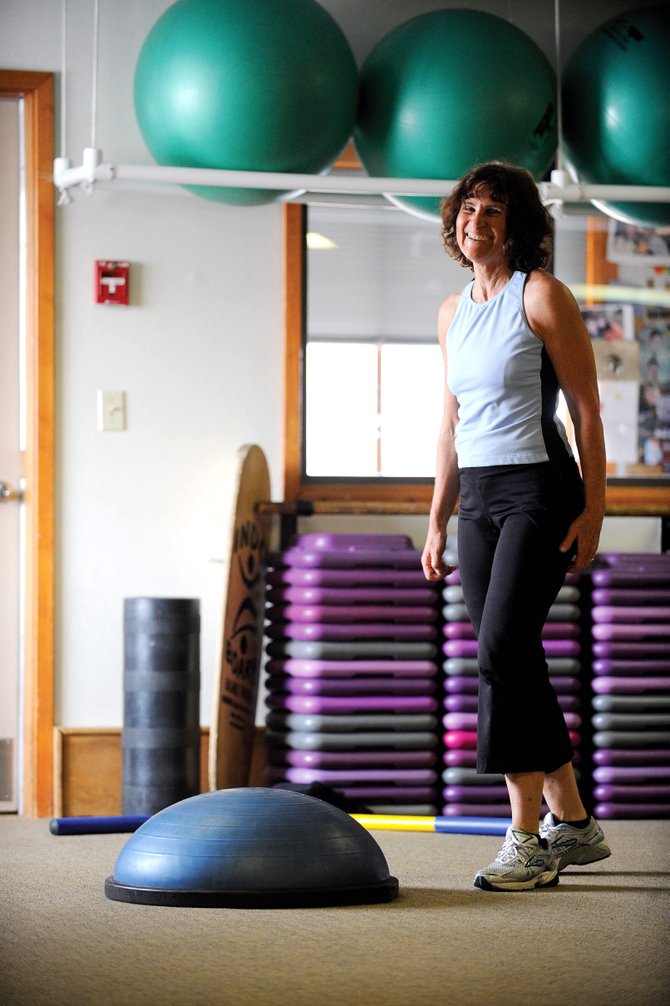 WELLNESS CHALLENGE AN EXAMPLE OF WHY OLD TOWN HOT SPRINGS IS STEAMBOAT'S BEST FITNESS CENTER/GYM
Story and photos by Matt Stensland
You might notice six finely toned women walking around town this spring.
In February, Old Town Hot Springs, winner of Best Fitness Center/Gym, challenged its members to the Wellness/Fitness Self Challenge, with six local strong-willed women walking away with top honors. In all, 135 members signed up for the challenge created by Simonne Oliver.
"We got a lot of feedback from people saying, 'How can I do something different?'" says Oliver, fitness director at the hot springs for 17 years.
Even hard-bodied fitness gurus on TV agree that routine is the enemy if you're trying to get in shape. Oliver says the nonprofit hot springs has a lot to offer but many members don't take advantage of it all. "Many people in the weight room never think about going to the pool," Oliver says.
The challenge presented an opportunity for people to break their routines. In the final, 25 members competed for the grand prize. To be eligible to win, competitors had to attend every class at least once as well as complete a Technogym exercise machine circuit and work out on two pieces of cardio equipment twice a week.
Participants also had to attend a heart disease presentation at Yampa Valley Medical Center.
"They were kind of surprised when I showed up with my clipboard," Oliver says.
Participants earned 30 points for each activity or class they completed, up to a maximum 90 points each day. The top point winner would receive a one-year membership valued at $500.
With a week left, six women stood out after earning the maximum number of points. "We never expected it to be that competitive because it's a lot of work," Oliver says.
Earning the maximum points required as many as four hours of work each day in February, meaning rearranging life schedules. "It's been an opportunity to exercise my time-management skills," says finalist Catherine Carson, a 52-year-old business consultant who chairs the Routt County Democratic Party. "The one thing I sacrificed is sleep."
Carson would wake up for the 6 a.m. spin class and then come back to watch TV on the treadmills at 9 p.m.
The challenge got her out of her normal routine. "There are so many great classes that I wouldn't have scheduled if I didn't sign up for it," she says.
Throughout the challenge, a bond formed among the six women as they competed for the grand prize. "It's been very good camaraderie," Carson says. By March 1, after the points had been tabulated, all six women had held onto their perfect scores. Rather than dividing the prize or having a tie-breaker, Oliver awarded each woman — four of whom are older than 49 — the one-year membership.
The winners were Carson, Izabela Banas, Pam Brenner, Karen Dodson, Georgian Kalow and Maria Parekh. Oliver says the challenge accomplished the goal of getting members to try out new parts of the gym.
They were all grateful for the push, feeling stronger and refreshed. "My clothes fit a whole lot better now," Kalow says.
Brenner says the challenge provided the extra incentive to get in shape, and it was worth the sacrifices.
"But the great thing was the number of friends we made," she says.