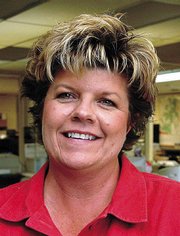 Elaine Sullivan, Moffat County's current clerk and recorder, is likely switching offices at the Moffat County Courthouse.
Term-limited as clerk, Sullivan notched a big win in Tuesday's Moffat County Republican primary election to earn the nomination for treasurer.
She said her tenure at the county, which dates back to 1981 when she became a deputy clerk, has a foundation built around the advice of her father.
On Tuesday night, she recalled the words he gave her long ago when she began her career in public service.
"He said, 'You remember people's names because their name is the most important thing they have,'" Sullivan said. "I have remembered that and done that."
Sullivan received 1,810 votes, or 77.15 percent, on Tuesday night, moving past opponent Mike Brinks, an accountant with Bonaker & Associates in Craig, who received 536 votes, or 22.85 percent, according to results released from the Moffat County elections department.
There were 2,346 total votes cast for treasurer.
Sullivan spent Tuesday night celebrating at the home of Lila Herod, with whom she worked at the clerk and recorder's office for a number of years.
Herod had her own big night Tuesday — she won an unopposed nomination bid for clerk and recorder with 2,056 votes.
Both Sullivan and Herod are the likely successors to their respective offices. There are no Democratic challengers as of now, and barring an unforeseen candidacy, the two will take office in January 2011.
Brinks, the former director of finance for Moffat County School District, said he was disappointed with the results of his candidacy.
"You know, we have a process and that process has been fulfilled, and I guess life is going to go on," Brinks said. "I believe in the process, and the people have spoken. … That's the way it goes."
Sullivan said she didn't anticipate the heavy support she received from voters Tuesday.
"I didn't expect it except that there are so many people who appreciate what we do in our office," she said. "It's always been about public service."
Sullivan conceded Tuesday that her campaign would be a difficult one to overcome for any Democrat who decided to challenge her in the November general election.
"I think you have to be aware you could always have an opponent," she said. "But, I think Moffat County talks, and they support me."