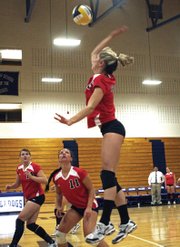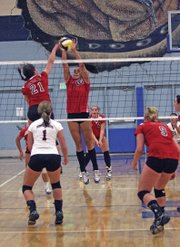 Although the stands were shaded Bulldog blue Tuesday, the crowd at the Moffat County High School gymnasium was cheering for red.
The Colorado Northwestern Community College volleyball team, which plays most of its home games in Rangely, made a rare appearance in Craig, hosting Western Wyoming Community College at MCHS.
Although the Spartans lost, 3-0, head coach Richard Barker said the night was a success.
"I'm all smiles," he said. "We got back from Sheridan (Wyo.), and it was nice to have another home game. It was great to have home team support here in Craig."
The game was a joint project between CNCC and MCHS.
Gene Bilodeau, CNCC vice president of administration, said the idea to bring CNCC athletics to Craig had been around for a while.
"A few years ago, we talked about bringing a basketball game to Craig," Bilodeau said. "After those plans didn't fall together, we talked about trying to do it again."
This year, arrangements were made, and the Spartans came to Craig.
Based on the reaction from Tuesday night's game, MCHS athletic director Richard Wildenhaus said hosting more games could be a possibility.
"We would like to do more with the college," he said. "We'd like to bring in a basketball game, and maybe more volleyball games next year. It's a win-win for both sides."
The mixture of more than 100 CNCC Rangely and Craig campus students, as well as community members and MCHS students, made the experience better, Barker said.
"It was a good situation for us," he said. "It was good to see a crowd out here for us. Having a loud, respectable crowd makes it much more fun for us."
Samantha Huffar was no stranger to the MCHS gymnasium.
The 2010 Hayden High School graduate and current CNCC setter played on the same floor when she was a Tiger.
"It's cool being back," she said. "It's like old times. It definitely brings back memories."
Although the Spartans have yet to win a game this season, having a big crowd behind them against a tough Western Wyoming team helped the Spartans, Huffar said.
"We needed that," she said. "We've had our ups and downs, so it was nice to have a crowd cheering us on.
"I liked it because we had a big crowd, and they were all cheering us on."
As for the game, it didn't disappoint, Huffar said.
"It was pretty intense," she said. "I was proud of the way we battled back."
Western Wyoming rode a 9-1 lead in the first game to win, 25-10.
The second game saw the Spartans lose, 25-18. In the third game, the Spartans and Mustangs traded leads, but Western Wyoming won, 25-19.
Win or lose, Wildenhaus said there were several reasons MCHS was happy to bring in the Spartans.
"The main goal was to create interest in their program, and bring something different to Craig," he said.
Bilodeau said the game was not only for the CNCC Spartans, but for the MCHS Bulldogs.
"The goal was to bring a collegiate sport to Craig," he said. "We wanted to generate interest (for MCHS players) to maybe someday play at the collegiate level."
Jeff Devere, CNCC-Rangely athletic director, said fans who watched Tuesday's game watched two teams battle in one of the more competitive junior college leagues in the country.
"(CNCC and Western Wyoming) compete in the Scenic West Athletic Conference, which is one of the hardest in the country," he said. "The teams are all pretty darn good, so offering a chance to watch it in Craig is a no-brainer."
Currently, the CNCC campus in Craig is undergoing a $30 million campus construction project, and in the future, Craig could be home to college athletics, Bilodeau said.
"We wouldn't be taking any teams away from Rangely," he said. "But, there have been discussions on men's and women's soccer, and there have even been discussions on a potential junior college football team.
"Athletics are a big part of college life."
The Rangely campus is home to men's and women's basketball, women's softball, men's baseball, and women's volleyball.
If Barker had his way, the Spartans would return to Craig next year for another home game away from home.
"Now that we have the first one out of the way, we know what to do," he said. "I loved the idea. We are so close, and the support was there."