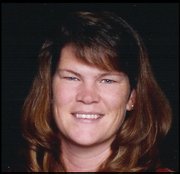 The Moffat County Tourism Association Board hired a new director at its meeting this morning at the Moffat County Courthouse.
The board offered its part-time director position to longtime Moffat County resident Melody Villard, who accepted.
MCTA chairwoman Kandee Dilldine said Villard will begin work as soon as Thursday and will work with current director Marilynn Hill and newly hired office assistant Gena Hinkemeyer to make the transition.
Villard will work between 25 and 32 hours per week.
Villard owns Villard Ranch, a lamb operation, with her husband, Albert, and is currently employed at the Gateway to Moffat County Visitor Center. She is a past MCTA board member and past board chairwoman.
Dilldine said the board received four applicants for the director position, one of which found other employment and dropped from the pool.
"We felt that she was the most qualified for the job out of these applicants," Dilldine said. "She knows the county. She's passionate about bringing tourists to the county."
Dilldine said she and the board are now looking toward the future.
"I look for some positive things to be coming from us," Dilldine said. "I think with both of them we'll be able to move forward and get some things done."
Villard said her work with Gateway to Moffat County, which functions with the Craig Campground, 2800 E. U.S. Highway 40, to greet visitors and new residents of Northwest Colorado, will be restructured as she moves into her new position.
Also part of the Northwest Colorado Cultural Heritage Tourism initiative, Villard said she is looking forward to getting back to work in an official capacity with MCTA, having served on the board from 2008 to 2010.
"I haven't ever quit my affiliation with them, I still go to a lot of the meetings," she said. "There are a few new board members that I haven't served with, so I'll need to get a sense of what they're looking for, but they've got a strong dynamic going for them."
Villard said she isn't settled on starting any new projects until she meets with the board next week.
"We'll be talking about marketing strategies, stepping up social media and where we want to go," she said. "It depends on how receptive they are to some of my ideas right now, but it's not a situation where I'll just run in and take over."
Villard said little has changed in what she wants to accomplish as MCTA director since she first applied for the position in late 2009.
"My goals are still the same," she said. "It's all about getting Moffat County's assets out there and finding new opportunities and ways to improve."
Click here to have the print version of the Craig Daily Press delivered to your home.