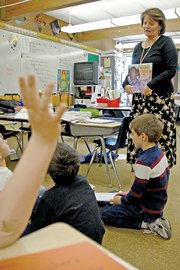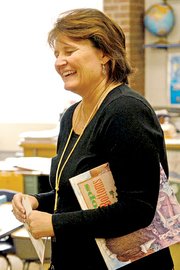 Every year, the Colorado Education Association picks one of its roughly 40,000 members for its highest honor.
On Saturday, during an awards ceremony in Denver, the CEA bestowed that honor on one of Moffat County's own.
Michele Conroy, a second-grade teacher at Sandrock Elementary School, received the 2011 CEA Award.
"I received a wonderful, beautiful acknowledgment," Conroy said of the event.
According to a press release from the CEA, the award is "given to a member of our association in recognition of outstanding service to public education."
The release cites Conroy's skills as a teacher, leadership in the Moffat County Education Association and her work with state legislators as reasons for the award.
Conroy's presence in Moffat County School District began in 1990 as special education teacher at Sunset Elementary School. In 2004, Conroy began teaching second grade at Sunset.
In 2009, when Sandrock Elementary School opened its doors, Conroy changed schools. Today, she continues to teach second-graders at Sandrock.
Conroy has also been deeply involved in the CEA.
From 2008 to 2010, Conroy served as the president of the MCEA, a local chapter of the CEA. Today, she represents a conglomeration of 14 Colorado school districts — the Ski Country UniServ Unit — as a member of the CEA's board of directors.
Conroy said her work for the Ski Country UniServ Unit allows her to speak on behalf of rural teachers.
"I really take pride in making the legislators aware that what's good for the Front Range and the larger school districts is not always conducive to what is being experienced at the rural level," she said. "Our voice in Moffat County means something."
As part of her rural advocacy, Conroy helped bolster state funding for Moffat County schools, according to the release.
"As CEA legislative liaison to Sens. Jack Taylor and Al White, Michele worked diligently on school funding through the Mill Levy Stabilization Act," the release states.
Conroy said the legislative process as difficult.
"That was months of work," she said. "Lots of miles and talks going back and forth."
Conroy is also part of the Quality Teacher Commission — a state organization that seeks to narrow the achievement gap between higher- and lower-income students.
Above all, however, Conroy said she is most proud of the relationship the MCEA shares with the district administration.
"I'm very proud that our local association and the administration have open communication and relationship with one another," she said. "There are many districts in the state that don't even have contract language where they can sit down and talk to one another."
District Superintendent Joe Petrone agreed the relationship between the administration and the MCEA is unique.
"I credit a lot of that to Michele, and her willingness and openness to meet on a regular basis," Petrone said of Conroy's tenure as MCEA president.
In getting to know Conroy as president, Petrone also witnessed Conroy as teacher.
"I went to her classroom frequently, so I had a chance to interact with her not only as president of MCEA, but as a highly effective teacher," he said. "She's a proficient, devoted, versatile teacher."
Conroy said her leadership roles will be winding down in the future. Due to term limitations, Conroy's position on the CEA board will end in June, and her involvement with the Quality Teacher Commission will end after another year.
But, she plans to stay involved in the classroom.
"I really want to focus on student achievement here at Sandrock Elementary and doing what's best for kids," she said.
Click here to have the print version of the Craig Daily Press delivered to your home.